AP CS Programming Test #3
0. (0 points) NAME________________________________________ PERIOD_________
INSTRUCTIONS
Put your name on the test. Failure to do so will result in a loss of one point. (Let's face it, if you don't know your name, you probably have bigger problems than this test.)
This test is closed book. No friends, no computer, just you, your brain, your test, and your pencil.
Where possible, SHOW YOUR WORK! I don't know how to assign partial credit to the void.
Don't panic. It's just a test.
1. (5 points; 1 point per line of code) Suppose that the following five lines of Scheme code are executed. Draw the box-and-pointer diagram that results for each line of code.
(Draw one diagram for all five lines.)

(define a '(1 (2 3) 4))

(define b (cons a (cdr a)))

(define c (list a b))

(set-cdr! (cadr b) 5)

(set-car! (cddar c) 6)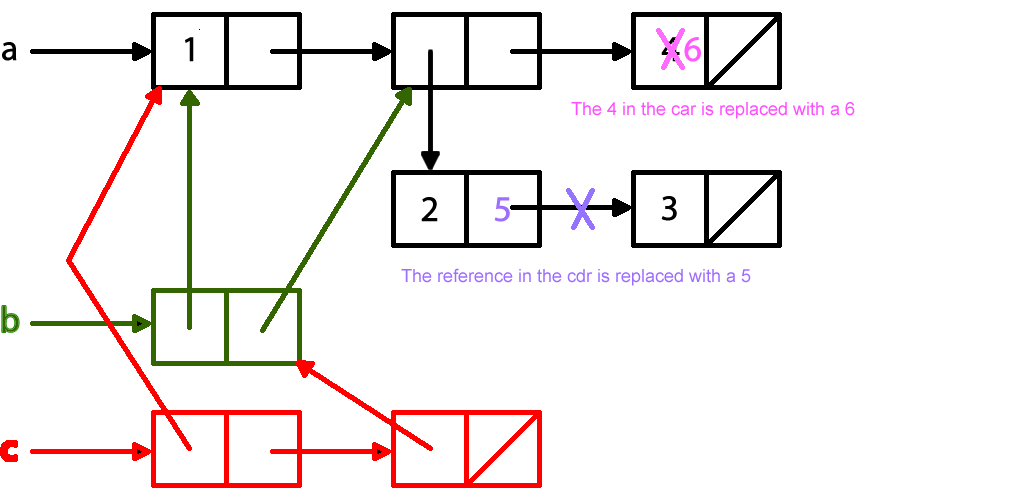 (1/2 point bonus) What is the output of (cadr a)?
(2 . 5)
2. (3 points) Write Scheme code that will produce the following environment diagram: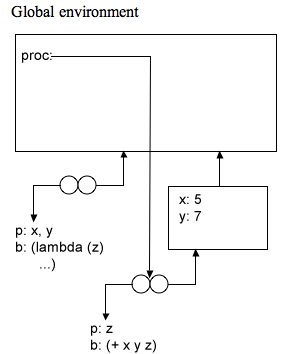 Note that proc is a procedure that takes one input, z, but that procedure must be inside a let (the unnamed procedure on the left and the corresponding frame that gets created when it is called immediately). So we get:
(define proc
  (let ((x 5)
        (y 7))
    (lambda (z) (+ x y z))))
  
3. (8 points) Exercise 3.22 from the book.
Instead of representing a queue as a pair of pointers, we can build a queue as a procedure with local state. The local state will consist of pointers to the beginning and the end of an ordinary list. Thus, the make-queue procedure will have the form
(define (make-queue)
  (let ((front-ptr ...)
        (rear-ptr ...))
     <definitions of internal procedures>
     (define (dispatch m) ...)
     dispatch))
Complete the definition of make-queue and provide implementations of the queue operations using this representation by filling in the blanks.
(define (make-queue)
  (let ((front-ptr '())
        (rear-ptr '()))
    (define (empty?)

      (null? front-ptr))  ; Can actually ignore rear-ptr; need to set rear-ptr to '() in
                          ; delete! if we want to include it here.

    (define (insert! datum)
      (let ((new-pair (cons datum '())))  ; For some reason, some people never used new-pair
       
        (cond ((empty?) (set! front-ptr new-pair)

                        (set! rear-ptr new-pair))

              (else (set-cdr! rear-ptr new-pair)

                    (set! rear-ptr new-pair)))))

    (define (delete!)  ; Must return the first element of the queue in addition
                       ; to deleting it from the queue
      (cond ((empty?) (error "Nothing in queue to delete!"))

            (else (let ((datum (car front-ptr)))  ; could also use (peek)

                    (set! front-ptr (cdr front-ptr))

                    datum))))

    (define (peek)
      (cond ((empty?) (error "Nothing in queue to return!"))

            (else (car front-ptr))))

    (define (dispatch m)
      (cond ((eq? m 'insert!) insert!)
            ((eq? m 'delete!) delete!)
            ((eq? m 'peek) peek)))

    dispatch))
4. (4 points, 1/2 point per blank) Consider the following code:

(define (make-thing)
  (let ((a 0)
        (b 1))
    (define (next)
      (let ((return b)
            (c (+ a b)))
        (set! a b)
        (set! b c)
        return))
    (lambda (msg)
      (cond ((eq? msg 'next) next)
            (else (error "?"))))))

(1/2 point per blank) In each blank, fill in what will be returned for that line of code. (The code sequence matters.)

> (define x (make-thing))

> (x 'next)       #<procedure>

> ((x 'next))     1

> ((x 'next))     1

> ((x 'next))     2

> ((x 'next))     3

> ((x 'next))     5

> ((x 'next))     8

In English, what would a good name for make-thing be? make-fibonacci